First off, belated happy birthday to us as the site is now two years old.  As a practical form of thanks to everyone who has given their encouragement, support and advice on this project, I have today released version 1.0 of our mobile site.
Will It Work With My Phone?
The Lost and Found Pets Ireland mobile site should be compatible with the majority of  'smartphones' out there now including iPhone, Symbian, Android, Blackberry and Windows Mobile based devices.  While it is not intended as a full replacement for the main website in terms of functionality, I think there is enough there to make it useful for many – especially considering that almost 8% of our traffic at this point is coming from Facebook mobile.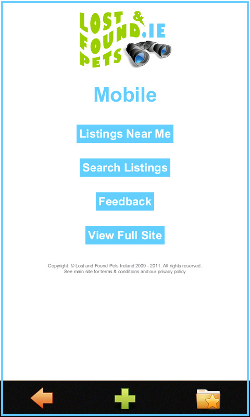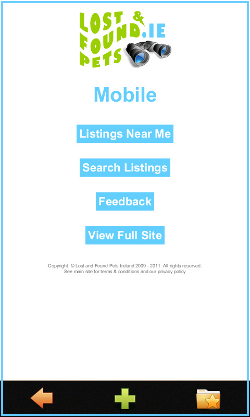 So What Can It Do?
The mobile site allows users to search and view our listings just as they can on our main site.  Search results can be filtered by status (lost, found or both), species (dog, cat etc) and county.  Full listing details are available along with facilities to easily call or text the person who posted the free listing.
If you have a GPS device built into or attached to your phone and a browser that supports it such as Mobile Safari (iPhone/iPod) or a Webkit based browser such as those found on Android and Symbian devices you can view a map which displays the listings around your current location.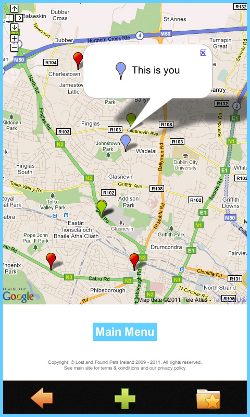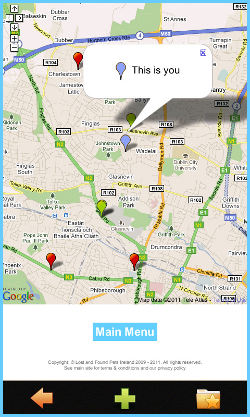 Finally for now, there is a simple feedback form which you are welcome to use to let us know how you are finding the site, your ideas for improvements etc.
OK, Sounds Good – Where Is It?
Those using mobile browsers will be automatically redirected to the mobile version by default.  You can disable this by clicking on the 'View Full Site' button on the mobile site homepage.  For those of you on regular PC's and those of you who wish to re-enable the default redirection, there is a graphic link just below the logo on the main site.
The Mobile Future
I hope later in the year to release an Android app which will provide full site functionality.  Given the costs involved in creating an iPhone app it is unlikely I will be providing one in the near future without some form of sponsorship.
Final Thanks
Building a mobile site which works consistently across so many different devices is not a simple endeavour  and I want to think some folk for their help with testing, specifically Siobhan Borgo for help on the Android side of things, @CookiieDivine for the indispensable iPhone/iPod screenshots and @SoniaKd and @LindaHayden1 for feedback on the UX.