Pets with Latitude!
Well the title says it all.  Today we started providing the facility to geotag the lost and found pet listings posted to the site via a simple map interface in our listing submission wizard.
Location Location Location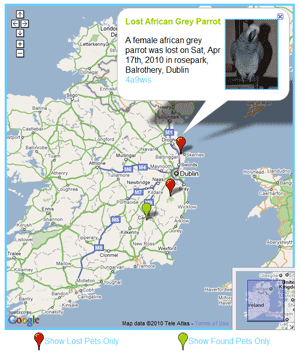 While we are not the first Irish site to do this (though it could be a first that we're not the first doing something :)), I think we push this technology significantly beyond what others are doing with it as we are adding the geolocation information to each listing page in machine readable micro format which should help with rankings for location based searches via Google and the other search engines.  In addition we  are geotagging our listing tweets on Twitter and our pet photo posts to Flickr where they will automagically appear on our map.  We are also including the geolocation information in our lost and found pets listings RSS feeds.
With Facebook (where we recently welcomed our 1,000th fan) rumoured to be on the verge of allowing users and developers to leverage geolocation information in apps and posts, and with the latest version of Firefox and those with GPS equipped phones now able to share their location with websites, we see a great opportunity to provide more relevant information to our users.
The site now features an map view of all current lost and found pet  listings in Ireland on our site for a bird's eye view and each geotagged listing comes complete with its own map.
As with all new features, your feedback is more than welcome.